News — Leather ballet flats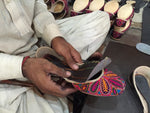 What!! It takes more than 30 steps to prepare Fuchsia Flats (Khusas, کھسہ). That was my initial reaction when I was told by my artisans. So I decided to spend a week with them in their factory and see it myself how Fuchsia Shoes are made. Our artisans usually work on a batch of 40 to 60 pairs in one cycle and it takes them around a week (sometimes 2 weeks) to complete a cycle. The usually follow assembly line for their manufacturing. Some steps take from hours to days depending on weather and climate. Since a lot of people were interested in learning...
---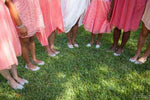 When Fuchsia was first founded in Seattle, WA by a group of friends, we had a vision and destination in mind. To create unique handmade quality shoes that you can depend on for every walk of life. A pair of shoes that help put your best foot forward when you encounter rocks and obstacles in your path. But also shoes you wore when you celebrate your life's precious moments. Recently we interviewed a newlywed bride who bought a pair of flats for all of her bridesmaids and we couldn't help but share this beautiful story. Fuchsia: How did you hear...