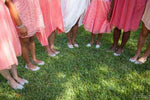 When Fuchsia was first founded in Seattle, WA by a group of friends, we had a vision and destination in mind. To create unique handmade quality shoes that you can depend on for every walk of life. A pair of shoes that help put your best foot forward when you encounter rocks and obstacles in your path. But also shoes you wore when you celebrate your life's precious moments.
Recently we interviewed a newlywed bride who bought a pair of flats for all of her bridesmaids and we couldn't help but share this beautiful story.
Fuchsia: How did you hear about Fuchsia and what made you pick our flats?
Stephanie: I was looking for Indian style shoes for my bridesmaid to wear. My wedding was a fusion of Indian and American styles. I really liked the simplicity and details of the shoes at Fuchsia.
Fuchsia: How did your bridesmaid like our flats? Were they comfortable?
Stephanie: The bridesmaids loved the shoes– they all spent time "breaking" them in for a couple of days. But they all said that these were shoes that they would wear again.
Fuchsia: Would you change anything about them?
Stephanie: I wouldn't change anything about them! They went really well with my colors and the style I was trying to achieve.
When we created this company, we wanted to not only make shoes that last a lifetime, but also make our customers happy with our product. We wanted to thank Stephanie for choosing Fuchsia for such an important occasion of her life and congratulate her on her wedding.