After a successful summer launch, Fuchsia is excited to announce our 2014 Fall collection in collaboration with FACES Pakistan - a non-profit organization which aims to empower the underprivileged in society. Realizing the importance of the 'women' in an economy, FACES Pakistan, formed an alliance with Caritas Germany, to commence a project titled Health Education and Enterprise Development (HEED). This public-spirited project aimed at improving the lives of the flood-affected females of the mixed religious communities in Nowshera, Jaffarabad, Rahim Yar Khan and Kashmore. Apart from the other spheres of life that this project dealt with, an attempt to demonstrate...
---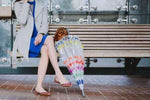 The Fuchsia story begins with a trip to my hometown of Karachi, Pakistan. Spring time was wafting through the air when I noticed several of the local women wearing funky attractive sandals. These 'Kolhapuri' sandals as they are traditionally known, are a beautifully crafted flip-flop style sandal. Using bright thread work to represent trendy traditional designs, these handmade sandals were particularly eye-catching. After seeing them for the first time, I just knew I had to have a pair. Heading to the local bazaar, I treated myself to these exquisite and hip sandals. With so many designs to choose from, I...
---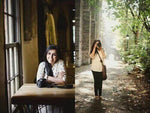 The photo shoot of Fuchsia's debut collection, ballet style flats was conducted by the very talented Seattle based photographer - Muqu of Massan photography. The typical Seattle rainy forecast couldn't stop us on the shoot day. In this stunningly gorgeous photo shoot Muqu shows another side of her photographic versatility depicting clear fashion, but also both the elegance and exquisiteness of Fuchsia ballerina flats. When asked about how this fashion shoot is unique from her previous work Muqu pointed out that contradistinction between the funky shoe colors and the natural light streaming in makes this fashion shoot so captivating.